Middle class computerisation
Evgenie Rudometov
authors@rudometov.com
Not being satisfied with the reached metrics, computer corporations search for new forms of implementation of production. One of perspective ways is crediting usage.
In the conditions of general low demand for highly technological production Russia already a number of years shows high metrics of sales of computer completing and ready systems. So, for example, as it was already repeatedly marked in mass media, the market of products of Intel, provides increase of an order of 40 % in a year.
However, despite similar highest metrics, computer corporations search for new forms of implementation of production.
On September, 3rd, 2002 company R. And K within the limits of the program "Computer loan" starts allocation of target loans to retail buyers of computers Wiener on favourable terms.
Responding to inquiries of all categories of retail buyers, R. And K. At marketing support of the company of Intel instal the program of a consumer loan which will allow them not to limit itself at a choice of the desktop computer to frames of the current budget. It gives the chance to consumers to gain the advanced high-powered systems which are capable to improve quality of human life with the low income.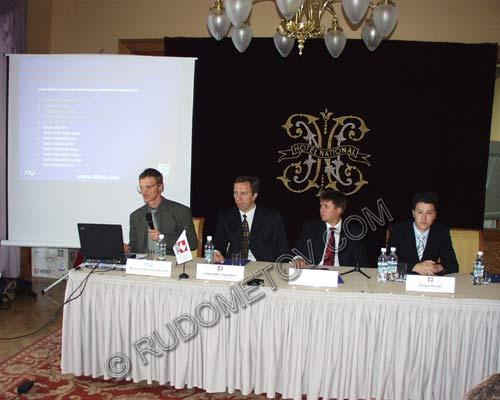 Vsevolod Predtechensky, the leading expert on application of production of Intel of representation of corporation of Intel in the CIS countries, Dmitry Dmitriev, the sales manager of computers of company R. And K., Nikolay Mozhin, the general director of company R. And K., Edward Ilyin, the director for marketing of company R. And K.
The current situation in the market of crediting does not provide comprehensible conditions for users. The majority of specialised retail networks and shops give not own credits, and only are intermediaries between bank and the buyer. Now receivers of credits are forced to pay in addition not only officially declared percent, but also the so-called commission of trade enterprise (from 7 to 10 % from the price) which is automatically pawned in the price. Besides, certain resources are raised by banks for operation of special terminals – reimbursing of these costs, eventually, lays down also on shoulders of buyers.
Company R. And K. Offers "the Computer loan" which is much easier and more convenient in sense of reception, and also is more transparent in sense of financial expenses.
| | |
| --- | --- |
| Design | 15 minutes, on a place |
| Borrow size | To 20000 roubles |
| Allocation period | 6 months |
| Order of payments | Monthly equal shares |
| Preschedule cancellation with payment on actual time of a borrow | Probably |
| Initial payment | 25 % |
| The annual rate | 28 % |
| The trade enterprise commission | No |
| POS-terminal rent | No |
To pass to razrelu Processors