Electronic Superconnection
Evgenie Rudometov
authors@rudometov.com
Through prompt development franchajzingovoj networks ULTRA Connect company ULTRA Electronics fast expands the presence at locales
At the height of not hot July summer in the comfortable country hotel allocated in 70 km from northern capital, between Ladoga lake and gulf of Finland, has transited a partner forum «the White nights ULTRA Connect». As the organizer company ULTRA Electronics has appeared.
As is known, this company is the largest ritejlerom the market computer and home appliances and electronics to Russia and the CIS. Operation of a network of retail shops of this company is constructed by a principle of a semiwholesale supermarket with a wide choice (to 18 thousand) production names. The considerable share of implementation is necessary on Internet shop. The company fast expands the business that is accompanied by growth of incomes. So the turn of a network of shops ULTRA Electronics which are carrying out trade by computers and electronic engineering, in 2006 has made $800 million It on 23 % more than in 2005, brought the companies $650 million
With partners and the further extension of business the forum «the White nights ULTRA Connect» urged to serve the purposes of improvement of interaction. At the taken place Forum leading IT manufacturers exchanged experience and jointly solved the stored problems, including discussion of new standards of effective implementation through trading networks of hi-tech products. During Forum operation the representatives of mass-media invited by organizers had an opportunity personally to communicate to top-managers of company ULTRA Electronics and of some the companies-manufacturers of IT production.
Within the limits of the led press conference (the Photo 1), devoted to the Forum and questions considered on it, the head of department of design business ULTRA Electronics Sergey Suvorov has told, that the company plans to open shops in all Russian cities with the population above 1 million persons. Here it is necessary to mark, that by the moment of opening of the Forum for the company already existed four shops: two in Moscow and on one in Petersburg and Kazan, but in some days was the message on one more shop – this time in Perm. In addition to it, considering the big load on existing trading squares in St.-Petersburg, within current year opening in our city of the second shop is expected.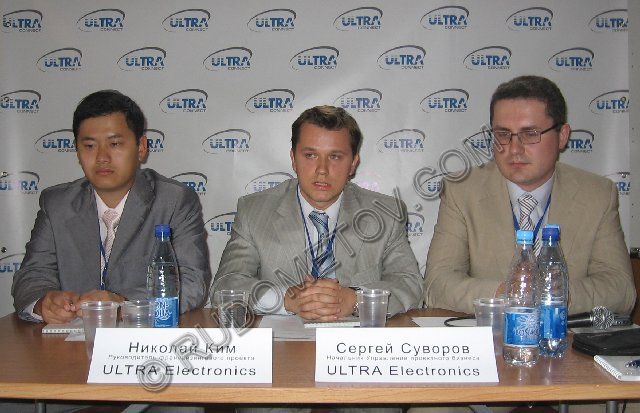 Photo 1. Nikolay Kim, the head franchajzingovogo project ULTRAElectronics; Sergey Suvorov, the head of department of design business ULTRAElectronics, Anton Vasilev, the director for external communications MOSTMarketing
Not being limited to the reached successes, company ULTRA Electronics permanently searches for additional paths of the accelerated development of the trading network. At press conference perspectives and schedules of its development have been presented representatives of mass-media franchajzingovyj project ULTRA Connect, and also.
Here it is necessary to remind a word meaning "franchajzing" (franchising), derivative from "franchajz" (franchise). According to the economic dictionary the term "franchajz" means a sort of business activity at which the company is authorised to use a brand, the goods or service of any larger company. Service is given on the certain conditions fixed by appropriate contractual documents. As a rule, the head company helps with mastering of processing techniques, and also with the equipment, a premise, advertising, etc . The term "franchajzing" means occupation franchajzom. It is necessary to mark, that two sides always participate in appropriate joint projects: one gives the right, another – this right uses on mutually advantageous conditions.
And now is a little bit more detailed about project ULTRA Connect. It franchajzingovyj the project of company ULTRA Electronics routed on support of its regional partners. Relying on successful experience of creation of retail shops in Moscow and St.-Petersburg, ULTRA Electronicsвнедряет in federation shops processing technique which has well proved in the Russian market diskauntnoj trade. Here basically performances of heads of the given project also have been devoted this subject.
Company ULTRA Electronics till the end of a year namerena considerably to expand the franchajzingovuju a network. A date started of the organisation of network ULTRA Connect is on July, 1st, 2006. Its head Nikolay Kim has told about development franchajzingovogo the project to present journalists. So, for example, only for the first year of development of a network to the project 44 shops have joined. Their total turn has made about $170 million During present time in a network 46 shops are already registered. And till the end of current year the number of shops is planned to increase to 100 with appropriate growth of financial power of a network.
By word company ULTRA Electronics will carefully select Sergey Suvorov of the partners for operation in a network of shops. So, for example, the company-candidate should work as dealer ULTRA Electronics not less than three months, providing purchases of the goods in sizes not less than $120 thousand a month. In case of positive solution and payment of an entrance fee at a rate of $5000 the candidate becomes the high-grade partner franchajzingovoj networks with all obligations following from it and advantages.
In the further ambassador of passing of formal contractual procedures each partner has an opportunity applications of firm operating time ULTRA Electronics in the field of the organisation of the trade, including sentences on design of trading squares, programs, instructions and even usage of a popular brand. And as it is declared, one of the major features of the offered program is absence of any deductions for their maintenance. However in reply to the help of the company-founder partners should buy not less than 50 % of the nomenclature of the goods for ULTRA Electronics, forming own pricing taking into account guidelines of the head company. The project provides observance of mutually advantageous working conditions for each member of a trading network and is, of course, routed on profit reception, both company ULTRA Electronics, and its partners in trading network ULTRA Connect.
For the sake of justice it is necessary to mark, what not all IT companies divide enthusiasm ULTRA Electronics on its development franchajzingovoj networks. And it is finite, this project has difficulties and problems. But it, as is known, destiny of all new. It is necessary to wish only successes of company ULTRA Electronics on this path as from it numerous potential users of IT products will win.