«Espionage passions 3. Electronic resources of double application»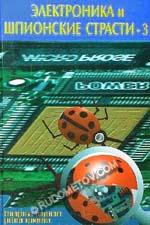 Rudometov

E

,

Rudometov

Century
«Electronics and espionage passions 3. Electronic resources of double application»
SPb.: parchment, 1998.-256s.


Descriptions, features of construction and maintenance of desksize priemo-handling resources of double application - used both for link, and for unauthorized access realisation schematic diagrammes are resulted in the confidential information of-electronic espionage. It is presented more than 200 circuits of arrangements and the sites which sharing allows to create more than thousand electronic constructions. On an example of the elementary experiences possible ways of interception of the information on some channels of its creation, processing and transmission (a sound, radio, phone, the computer) are described. Simple guidelines on information protection are given. The book is calculated for a wide range of the readers constructing communication facilities, and also those who is interested in possibilities of electronics and is anxious by protection of and another's secrets.

In soft interlacing.
THE MAINTENANCE
INTRODUCTION
1. BASIC ELEMENTS OF PRIEMO-TRANSMITTERS
2. ANTENNA AMPLIFIERS (RADIO AND TV), AERIALS
3. AM - AND CHM - RADIO CONVERTERS
4. VHF-CHM - AND AM-RADIO RECEIVERS
5. CHM - AND AM-RADIO TRANSMITTERS
6. UOKI-CURRENTS (PRIEMO-TRANSMITTERS)
7. ALTERNATIVE COMMUNICATION FACILITIES
8. TELEPHONE RETRANSLATORS
9. NONCONVENTIONAL USAGE OF RADIO RESOURCES
10. POWER SUPPLIES STATIONARY AND SELF-CONTAINED UNITS
11. INFORMATION PROTECTION: some experiences and guidelines,
Professional tools of protection of the information
THE CONCLUSION
THE LITERATURE