Abit AL8 architecture
Evgenie Rudometov
http://www.rudometov.com
On the basis of Intel chip set 945P company Abit has released motherboard AL8, Intels supporting high-powered processors, including two-nuclear models
Prompt development of the IT industry is carried out in the conditions of hard competitive struggle. The largest players of the market, putting huge resources, instal rules in the branches leading to quite often step-by-step replacement of corporations, not possessing necessary financial, industrial and manpower resources. Therefore, to be held in this sector of the market, the competing companies permanently should invent something new and to insert leading-edge technologies in deadlines. That who fast and successfully realizovyvajut the firm operating time, is possible not only to be fixed in market IT but also to expand the involvement in this important and profitable market.
As an example it is possible to result company Abit, whose innovative developments well-known to numerous domestic computer enthusiasts. Motherboards of this manufacturer are distinguished by the big number of firm innovations, among which such as SoftMenu, OTIS, µGuru.
One of the newest products recently released by the given company, the newest variants of motherboards, such as, for example, model AbitAL8 are.
The chip set of Intel declared in the end of May, 2005 945P Express, capable to support two-nuclear models of processors of Intel became a basis of this card.
Basis

AbitAL

8
Intel chip set 945P Express (i945P) is oriented to creation of high-powered desktop personal computers. Created on the basis of the predecessor — Intel 945P, he has inherited its newest processing techniques and has repeated key parametres. However there were also additional properties.
First of all, it is linked to support of clock rate of 266 MHz that corresponds to a transmission frequency of the given 1066 MHz. This property has provided support of appropriate processors, for example, such as high models of Intel of Pentium 4 Extreme Edition which could work earlier only with i925XE.
Besides, the chip set i945P provides support of two-nuclear processors of Intel.
Such processing techniques as Hyper-Threading (the multistream fulfilment perceived by the operating system as additional virtual processors and possible at support by a chip set, OS and BIOS) and EM64T (performance of 64-bit commands on 32-bit processors are not forgotten also at support by a chip set, OS and BIOS).
From the additional properties gained by a chip set i945P, it is necessary to mark support of DDR2 400/533/667 units.
The chip set consists of two components. The first of them is responsible for handle of the processor bus, the bus of drawing PCIExpress X16, two channels of dynamic storage, and also link with the second component of a chip set. It is responsible for handle of computer peripheral devices. It is presented by chip ICH of the seventh version — ICH7 and Intel which have received the name 82801GB. This chip enters into a base set of a chip set i945P.
Except Intel 82801GB usage of expanded version ICH7 — ICH7R (Intel 82801GR) is possible . This chip provides support of functions RAID.
Structure of package
Abit AL

8

In given for acquaintance and testing package Abit AL8 have entered:

· the Packing box,

· Motherboard Abit AL8,

· the Cover plate of plugs of input/output,

· CD-ROM and diskettes with the software from Abit,

· Cable Floppy,

· One cable Ultra DMA 66/100,

· Four cables Serial ATA,

· One adapter for power supplies of two arrangements Serial ATA,

· the Additional receptacle with two USB plugs and two IEEE1394 plugs,

· the Documentation.
Main technical parametres
Abit AL

8

Appearance of motherboard AL8 and its plugs are presented in a Fig. 1 and a Fig. 2. Key parametres of this card are resulted in Table 1.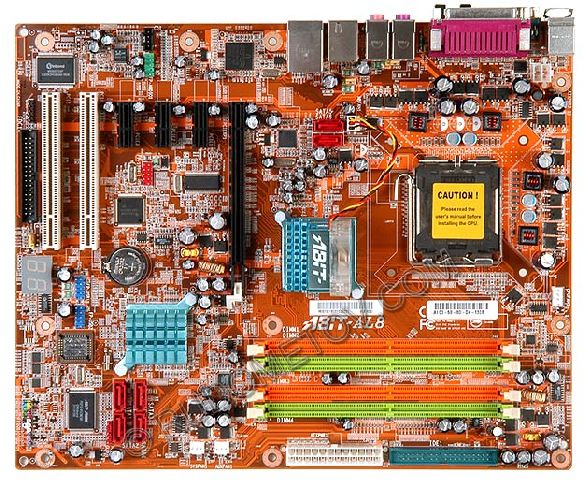 Photo 1. Motherboard AbitAL8

Photo 2. Motherboard AbitAL8 plugs
Table 1. Motherboard Abit AL8 Key parametres
Units and subsystems

Parametres

The processor

Intel of Pentium 4 and Intel of Pentium D in konstrukive LGA775 about 1066/800/533 MHz,
Processing techniques of Intel Hyper-Threading / XD-bit / EM64T / EIST are supported

Chip set

82945P (MCH)

82801GR (ICH7R)

Memory

Two-channel, nebuferizovannaja, 1,8В DDR2-533/667, four 240-contact DIMM plugs, to 4 Gbytes

Video

PCI Express *16

Audio

Built in 7.1-channel High Definition (Realtek)

IDE/ATA

1 x ATA/100 + 2 x ATA/133

SATA

4 x SATA/300

RAID

ICH7R (4 SATA): RAID 0, 1, 5,10 and Intel Matrix Storage Technology (1+0 on two hard disks)

Silicon Image PCIE SATA 3GB/s RAID (2 SATA)

USB 2.0

To 8; 4 on a backboard + 2 ports on a receptacle

IEEE-1394

To 3; 1 x 6-contact on a backboard + 2 on a receptacle; 1394a

LAN

Gigabitnaja (10/100/1000 Mbit/c) a network subsystem on base gigabitnogo network controller Broadcom 5789

Expansion slots

1 x PCI Express x16,
3 x PCI Express x1,
2 x PCI

Ports on a backboard

2 x PS/2 keyboards and mice,
1 x LPT (SPP/ECP/EPP),
1 x COM (16550-compatible UART),
1 x S/PDIF,
4 x USB 2.0,
1 x RJ45 (LAN),
1 x IEEE1394A,
6 x audio

BIOS

Phoenix – AwardBIOS

Firm processing techniques

ABIT μGuru 2005 Technology (ABIT OC Guru / ABIT EQ / ABIT Flash Menu / ABIT Black Box)
ABIT CPU ThermalGuard Technology

Form factor

ATX, 305 x 245 mm
Features
of Abit AL8 architecture
The motherboard is fulfilled on textolite of red-orange colour. It is created on the basis of a chip set of a new generation of Intel 945P according to requirements of operation of modern components. The structure and the main components of motherboard Abit AL8 are presented in a Fig. 3.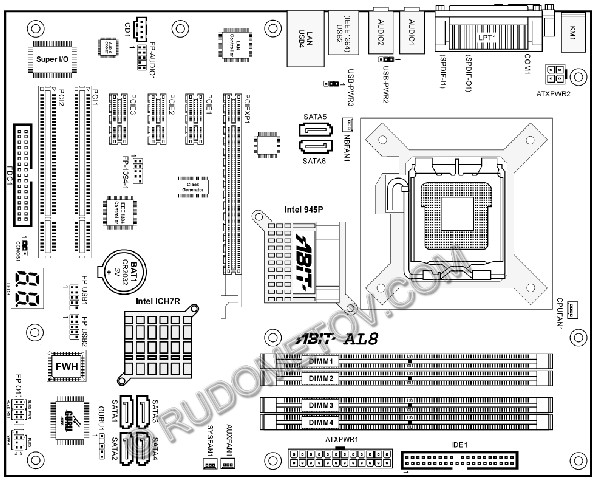 Fig. 3. Structure and the main components of motherboard AbitAL8
Modern electronic parts possess considerable energopotrebleniem. As resources of cooling of chips of a chip set i945P special coolers are applied: the small heat sink — for ICH and the heat sink bolshego the size, supplied with the fan — for MCH.
Card Abit AL8 is oriented as a basis of mass high-powered systems of wide application. It supports the newest variants of processors of Intel. The upper models of Intel of Pentium 4, processors of bar Extreme Edition and two-nuclear models concern them. However the processors of Intel Celeron calculated for the bus of 533 MHz can be applied .
The card is calculated for usage of units of type DDR2 533/667 in an one-channel or two-channel pattern.
The videoadapter is hooked up by means of bus PCI Express x16, which capacity in 3,5 times more than traditional bus AGP 8X.
The multi-channel audiosystem is realised on the basis of chip Realtek ALC880 CODEC. It is realised eight audiochannels.
The network controller Gigabit Ethernet fulfilled on a chip of controller Broadcom BCM5789KFB is built in the motherboard architecture. Hooking up is carried out through standard RJ45 plug.
For handle of input\output devices the second component of a chip set — Intel chip 82801GB (ICH7R) responds . Thanks to the given chip it is realised four ports Serial ATA 300 (four arrangements) and one port Parallel ATA-100 (UltraDMA 100/66/33, two arrangements IDE). Disk drives Serial ATA can be banked in a RAID-file with functions. Additional two Serial ATA plugs are provided by means of specialised chip Sil3132 SATA Driver of company Silicon Image.
For the extension of the computer system created on the basis of motherboard Abit AL8, sl and supports it is pressed down appropriate PCI slots and PCI Express x1.
Power supply of units of the card is carried out through system of impulse stabilising devices both appropriate subsystems of video and audio.
Traditionally for advanced models of motherboards in Abit AL8 architecture possibilities of the hardware monitoring providing the control over supply voltages and operation of cooling fans are realised. It is reached by means of the firm hardware-software components which are a part of resources, received name ABIT μGuru 2005 Technology. This processing technique grounded on specially developed chip, providing rise of performance levels and the control, and also support of some the functions facilitating maintenance of the computer.
Productivity
Estimating productivity of the motherboards created on a basis i945P it is necessary to mark, that the given chip set, represents, evolutionary, instead of a revolutionary product. At usage of traditional processors with the bus of 800 MHz and DDR2 533 units MHz productivity is practically at level of the solutions created on chip sets of the bar i915. However in case of application of the newest processors with the bus of 1066 MHz and DDR2 667 units the gain concerning systems of the previous generation i915/i925X makes some percent. Productivity considerably above increases at usage of two-nuclear models: for the optimised applications the gain can exceed 80 %.
Motherboard Abit AL8 is given by the Moscow representation of company Abit
Article is published in log the Computer the Price (Computer Price).