Motherboard PC Chips M766LMRT
Evgenie Rudometov, Victor Rudometov.
authors@rudometov.com
Article is grounded on substances of books "Arrangement of the multimedia computer" and "Motherboards and chip sets"
One of paths of reduction of price of computers and optimisation of usage of nested resources is segmentation of the market of accessories. When to accessories it is not shown the high requirements linked to necessity of high efficiency and special conditions of service products Low End can use.
Cуществуют different categories of processors, videoadapters and the hard disks calculated for usage in computers of different productivity, functionality and, that the most important, the different price. There is nothing surprising and that similar processes have concerned also such major accessories as motherboards which also are released taking into account requirements of different sectors of the market. It can be products High End usually associated with such corporations, as for example, Intel, ASUSTeK, Abit, Gigabyte, MicroStar etc . Their products, as a rule, are reliable and efficient, but is frequent rather nedeshevy. On the opposite end of a spectrum products Low End are allocated. Their main difference — rather low prices. As an example of similar products it is possible to result motherboards PC Chips corporations (Motherboards PC Chips), — materinkoj cards M766LMRT the substance offered more low is devoted testing of one of them .
Ukazanaja the card is constructed on the basis of a known chip set i810 and before to pass to the analysis of its possibilities, it is expedient to remind some data of a chip set. It is especially important as the chip set defines potential possibilities of the motherboard. And from that, how much successful there was a choice of this unit depend both parametres, and dependability of the motherboard, and in konchnom the score and all computer.
So a chip set i810 — a legendary product of the corporation of Intel. Despite criticism of the given specialised set, this spetsalizirovannyj the set has begun the new architecture and became the ancestor of a line of chip sets i8xx.
The chip set structure i810 is based on usage so-called habovoj architectures (Accelerated Hub Architecture) which allows to optimise structure of the computer and considerably accelerates an informational exchange between computer components.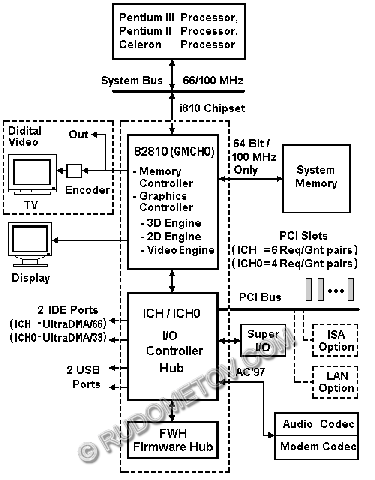 The high-powered videoadapter is integrated into a chip set i810 with usage of UMA architecture providing selection of a part of the working memory under a video memory, but usage and a separate display cache memory in size to 4 Mb is possible . The chip set i810 has built in 24-bit 230 MHz RAMDAC and resources AGP, IDE, USB, PCI (to 266 Mb per second), etc .

Chip set controllers i810, entering into its structure, support the 64-bit asynchronous bus of memory with frequency of 100 MHz. It means, that frequency of the bus of memory can not coincide with frequency of the bus of the processor), working memory size — to 512 Mb, to 2 DIMM; expedition resources 2D/3D, AC ' 97 for the program modem and a sound map, etc .

The base package of a chip set i810 consists of three chips: 82810 Graphics and Memory Controller Hub (GMCH) — North Bridge, 82801 Integrated I/O Controller Hub (ICH) — South Bridge, and also an additional chip 82802 Firmware Hub (FWH).

It is necessary to remind, that the architecture and functionality of motherboards are defined not only type of applied chips of a chip set, and also quantity of DIMM slots defining number of units and sizes of dynamic storage. Besides, it is necessary to consider quantity of PCI slots, presence and types additional to the chips, functionality expanding a set, and also functionality of the special software etc .

The cores technical parametrym mother платы

M766LMRT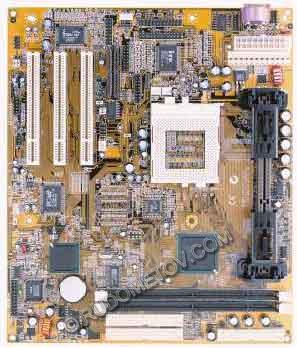 The processor
Processors Slot 1 Intels Celeron, Pentium II/III or Socket 370 Intels Celeron PPGA, frequency of the system bus 66, 100 MHz are supported .
Chip set
System memory
Two 168-contact DIMM slots supporting to 512 Mb SDRAM
Slots
The integrated IDE-controller
2 channels UltraDMA/33 Bus Master IDE with support to 4 ATAPI-arrangements
The built in graphics resources
To 1600х1200 at colour of 8 bits and frame rate of 85 Hz.

Compensation of movement and hardware expedition of decoding MPEG2

Optional TV-encoder for NTSC and PAL.
Built in Audio
Chip HT8738AM/PCI providing a fourline sound, full duplex, 24 bits of a stereo, 44

kgts

etc .
Input\output ports
2 ports USB

1 consecutive and 1 parallel port with EPP and ECP

1 PS/2-port for mouse hooking up

Floppy

Linear input terminal/output an input terminal
Miscellaneous
Built in resources Hardware Monitoring

Optional built in resources LAN (10BaseT/100Base TX LAN Adapter)

The optional 56 K Fax/Modem unit supporting V.90, V.34, V.32bis, V.32, V.22bis, V.22, Auto Fallback, MNP5, V.42

Optional resources USB, IR, PS/2

Optional resources Digital Audio

Optional resources AV/S-Video
Power supplies plugs — AT/ATX
The size
Baby-AT A form factor, 220x257 mm
The presented motherboard has form factor Baby-AT, however simultaneous presence on cards of AT plugs and ATX their usage not only in tanks of type Baby-AT, but also in tanks ATX allows. Besides, presence on the card of processor Slot 1 plugs and Socket 370 facilitates a choice of processors taking into account existence of different form factors. Thus according to the order bookings Socket 370 plug is intended for processors Celeron in form factor PPGA.
To pass to razrelu Motherboards and chip sets