Player

MSI

MEGA VIEW
Evgenie Rudometov
Making use of experience of the previous developments in the field of audio and video of the arrangements, known computer company Micro-Star International (MSI) has developed and has released the multimedia player MSI MEGA VIEW 566, differing compactness and wide functionality
The modern business which is grounded on usage of the advanced reachings of solid-state technologies and carried out in the conditions of a hard competition, is characterised by fast upgrade of released products. For rise of the stability the companies-manufacturers according to market requirements aspire to expand the nomenclature of the products, operatively releasing perspective models. Thus, expanding the business, they quite often create new directions of the activity, introducing in them the experience and zadejstvuja the stored resources.
As an example of such successful companies it is possible to result the known company MSI, entering into the five of the main world manufacturers of motherboards. This company besides main production successfully enough develops the multimedia direction. The multifunctional audio/videoplayer MSI MEGA VIEW 566 recently developed and already delivered in shops which are, as a matter of fact, a supercompact multimedia combine can be one of samples of this activity.
Package

MSI MEGA VIEW 566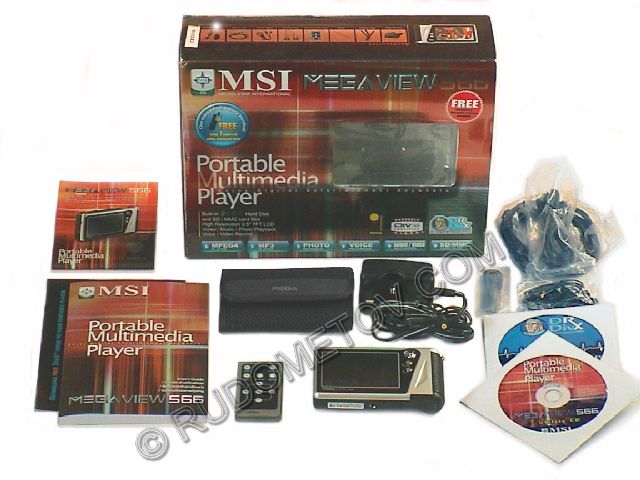 Photo 1. Package MSI MEGA VIEW 566
In structure of a package of player MSI MEGA VIEW 566 presented on the Photo 1, enter:
· the Packing box,
· Player MSI MEGA VIEW 566,
· Instructions of the user,
· the Adapter of a mains supply,
· Two secondary generators,
· the Remote control (and a battery to it),
· Two compact discs with drivers and ON,
· the Lace for carrying of a player,
· Audio/video-cable,
· Cable USB,
· Ear-phones,
· the Support
Short description MSI MEGA VIEW 566
Considered model 566 is development of the bar of players MSI MEGA VIEW. As a basis of the given development its predecessor — MSI MEGA VIEW 561 has served . Models 561 created by company MSI and 566 concern the bar of superportable multimedia combines MSI MEGA VIEW, the weight and which sizes allow to carry them in a ladies' handbag and even in a jacket pocket.
Really each of the given arrangements has weight less than 250 grammes at the notepad sizes: 119 h 76 mm. A thickness of the most "wound" model 566 makes only 25 mm, and the predecessor and that has less — 21 mm.
Appearance of the given models is presented on the Photo 2.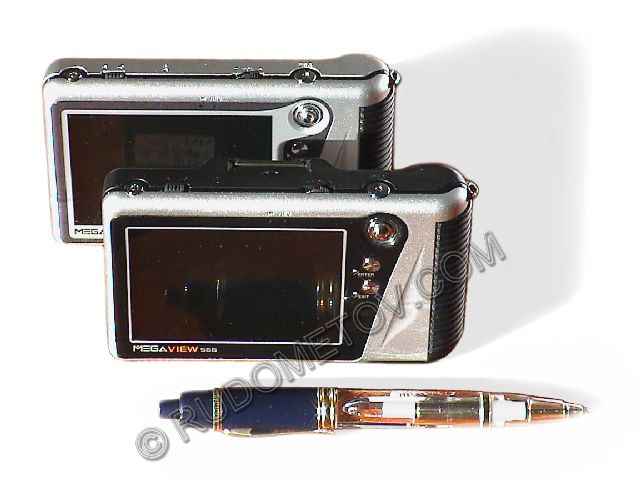 Photo 2. Players MSI MEGA VIEW 566 (in the foreground) and MSI MEGA VIEW 561 (on a background)
Basic performances MSI MEGA VIEW 566
| | |
| --- | --- |
| Characteristics | The description |
| Support of operating systems | Windows 98SE, Windows ME, Windows 2000, Windows XP, MAC OS9 |
| Video formats | MPEG4, DivX 3, Motion JPEG, WMV9 |
| Audio formats | MP3, WMA V9, WAV |
| Formats of pictures | JPEG, GIF, BMP, TIFF |
| HDD | 1.8"20GB |
| The screen size | 3.5 "TFT with LED highlighting |
| FM the Radio receiver | Stereo FM a tuner |
| Audio | The built in microphone and the speaker |
| The video decoder | Supports systems NTSC/PAL |
| USB | USB2.0 |
| The sizes | 119 x 76 x 25 mm |
| Weight | 245 g |
| Inputs/outputs | The plug of ear-phones, AV an input terminal, AV an output, mini-USB, SD/MMC, the power supply plug, a hole for a cervical tape, IR - the port, the built in speaker and a microphone |
| The battery | Li-ion Removable recharged (2200mAhr, 3.7V, 1элемент) |
| Duration of operation from the battery | Playback of video till 3.5 o'clock, playing of audio till 8 o'clock |
| Buttons | Inclusion/turn off, Loudness +///-//off, Writing, Playback/pause (choice), wind forwards (to the right), back (to the left), the previous writing (upwards) following (downwards). Playback/input, an output/stop, locking of buttons, a battery latch. |
It is necessary to mark, that as a matter of fact both models represent miniature computers with the processors, memory modules, the interface chains and even with a miniature hard disk (hard disk) of a form factor of 1,8 inches.
Despite rather difficult internal arrangement, designers have taken care of that handle was not more difficult than traditional audio and videorecorders. As the given arrangements also are intended to fulfil their functions, only not traditional analogue, and digital with inherent in such products quality and possibilities of copying: the 100-th copy is completely equivalent to the original.
Thanks to presence big, light, polnotsvetnogo 3.5 inch is liquid-crystalline screens model MSI MEGA VIEW 566 well approaches for survey of digital photos and video, including films and videoclips of different formats. Thus for review in road it is possible to use the built in screen, and in stationary conditions — big television. For hooking up to the TV the arrangement has appropriate entry and output plugs of audio/video.
And it is finite, it is possible to hook up MSI MEGA VIEW 566 to the computer cable USB 2.0 and to load the favourite films, pictures, music. Possessing solid memory in 20 Gbytes, by the way, it is inherent in both models, MSI MEGA VIEW 566 gives more than enough place for a musical collection.
As additional, a bonus it is possible to consider presence FM of a radio receiver with possibility of writing of favourite transmissions. Besides, there is a dictophone with the built in microphone for writing of lectures, interview and oral notices, and also the built in subsystems of audio/videorecording for copying of films from traditional sources. The videorecorder, CD/DVD-player or a videocamera can be them, for example.
For support of writing from external sources model MSI MEGA VIEW 566 is supplied by all necessary plugs (the Photo 3).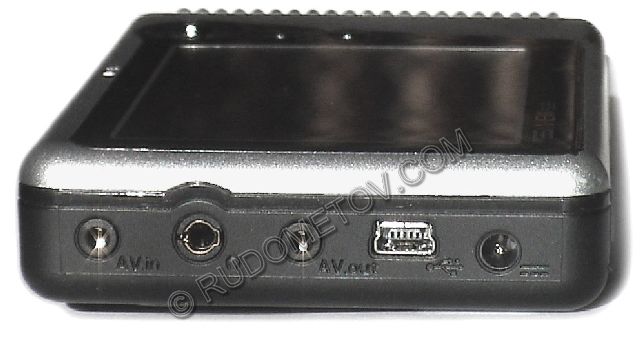 Photo 3. Plugs of player MSI MEGA VIEW 566
The specified model supports a complete set of formats of multimedia, allowing to lose various videos and audiofiles in different formats, including the most popular sound formats MP3 and WMA.
The high capacity allows to write easily and everywhere to carry with itself enough great volume of the information. The disk can store till 80 o'clock video in format MPEG4 or 5000 MP3 songs or 100 000 JPEG photos.
It is necessary to mark, that MEGA VIEW 566 has, also the plug for SD the memory maps, allowing directly to read out from them videos/audiofiles. It is possible to use SD maps for a backup of files with MEGA VIEW 566. There are two ways of copying of files: at once to copy all files with SD maps in MEGA VIEW 566 or to duplicate them selectively from directory SD. The given plug allows to communicate with the arrangements using given resources of memory, for example, by digital cameras easily.
Model MSI MEGA VIEW 566 audioformats — MP3, WMA V9, WAV and formats of pictures — JPEG, GIF, BMP, TIFF support the majority of widespread presentation formats of the multimedia information which videos — MPEG4 concern , DivX 3, Motion JPEG, WMV9 . The video decoders which are a part of given models, support systems PAL/NTSC.
The specified arrangement at its hooking up to the computer Windows ME, Windows 2000, Windows XP, MAC OS9 are supported by Windows operating systems 98SE. It allows not only to exchange video and audio records, but also to apply the given multimedia-combines in quality vysokoemkogo the external disk drive providing transportation and storage of the computer information. Link is carried out by means of high-speed interface USB 2.0, that, by the way, allows to duplicate a high-grade video film less than for one minute.
Hooking up is provided through specialised plugs by means of the appropriate cables which are a part of a package where, by the way, CD-ROMs with the software and the documentation in several languages (while except Russian) enter also.
Energopitanie by arrangements it can be carried out or from the electric system through the desksize rectifier, or from the replaceable secondary generator recharged lithium-ionic (Li-ion, 2200 mach, 3,7 In, 1элемент). Thus it is necessary to mark, that with model 566 it is delivered two secondary generators, each of which provides till 3,5 o'clock video or till 8 o'clock audioplayback. On the Photo 4 appearance of the secondary generator and its installation are presented to player MSI MEGA VIEW 566.

Photo 4. Secondary generators of player MSI MEGA VIEW 566
Handle of arrangements is carried out by means of the several keys allocated on frontal to the side and in the upper end face. Thus the main controls is the multiposition joystick.
But it is possible to use and a miniature remote control, that essentially raises level of comfort of using the given arrangements, especially considering presence in packages of a desksize support.
Specified characteristics MSI MEGA VIEW 566 provide convenience of its usage in wide sphere of possible application of audio and videounits.
In summary it is necessary to add, that company MSI continues to develop the bar of the superportable multimedia combines of bar MSI MEGA VIEW and plans release of new models.
To model of player MSI MEGA VIEW 566 it has been given by the Moscow representation of company Micro-Star International
Article is published in log the Computer the Price (Computer Price).