Compact video from
MSI
Evgenie Rudometov
authors@rudometov.com
Making use of experience of the developments in the field of consumer electronics of the arrangements, known computer company Micro-Star International (MSI) has developed and has released portable multimedia combines of MSI MEGA VIEW set, differing from products of competitors compactness and wide functionality
Thanks to fast perfection of solid-state technologies there were the new electronic parts, allowed to realise many plans of designers. As a result of their efforts routed on multiplexing of reachings of computer equipment and audio/video of arrangements, there were a reality compact products of consumer electronics, in set released by many corporations. Among these corporations the known computer companies which for rise of the stability in the market aspire to expand the nomenclature of the products, operatively releasing perspective models are selected. Thus, expanding the business, they quite often create new directions of the activity, introducing in them the experience and zadejstvuja the stored resources.
As an example of such successful companies it is possible to result the known company MSI entering into the five of the main world manufacturers of motherboards and videoadapters. This company besides main production successfully enough develops the multimedia direction. Multifunctional audio/videoplayers of MSI MEGA VIEW set recently developed and already delivered in shops can be one of samples of this activity. These arrangements which are, as a matter of fact, supercompact digital multimedia combines, are capable to substitute traditional audio and videorecorders in many cases.
Package
MSI
MEGA VIEW
Now from a number of arrangements MSI MEGA VIEW models with serial numbers 561 and 566 are widely accessible.
Into structure of packages of these models enter:
· the Packing box,
· Player MSI MEGA VIEW,
· Instructions of the user,
· the Adapter of a mains supply and the secondary generator (two – for 566),
· the Remote control,
· CD with drivers and ON,
· the Lace for carrying of a player,
· Audio/video-cable,
· Cable USB,
· Ear-phones,
· the Support
Short description MSI MEGA VIEW
Models 561 created by company MSI and 566 concern the bar of superportable multimedia combines MSI MEGA VIEW, the weight and which sizes allow to carry them in a ladies' handbag and even in a jacket pocket. Really, each of the given arrangements has weight less than 250 grammes at the notepad sizes: 119 h 76 mm. A thickness of model 566 makes only 25 mm, and the predecessor and that has less — 21 mm.
Model MSI MEGA VIEW 566 is development of the predecessor — MSI MEGA VIEW 561. The main difference consists in the extension of functionality of model 566 at the expense of usage in its construction of SD/MMC slot which is absent for 561.
Appearance of the given models is presented on a Fig. 1, and basic performances — in Table 1.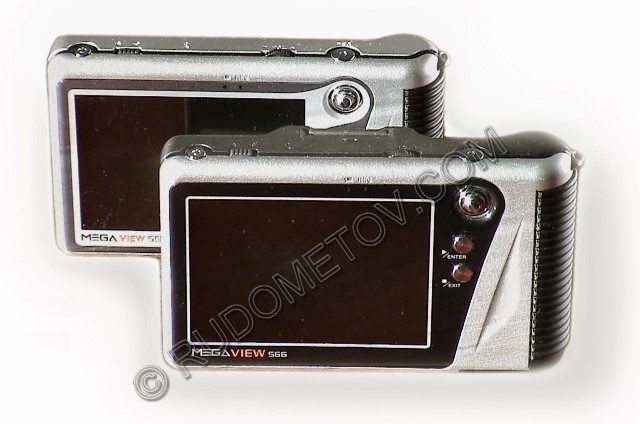 Rice 1. Players MSI MEGA VIEW 561 (on a background) and MSI MEGA VIEW 566 (in the foreground)
Basic performances MSI MEGA VIEW 561/566
Characteristics

The description

MSI MEGA VIEW 561

MSI MEGA VIEW 566

Support of operating systems

Windows 98SE, Windows ME, Windows 2000, Windows XP, MAC OS9

Video formats

MPEG4, DivX 3, Motion JPEG, WMV9

Audio formats

MP3, WMA V9, WAV

Formats of pictures

JPEG, GIF, BMP, TIFF

HDD

1.8"20GB

The screen size

3.5 "TFT with LED highlighting

FM the Radio receiver

Stereo FM a tuner

Audio

The built in microphone and the speaker

The video decoder

Supports systems NTSC/PAL

USB

USB2.0

The sizes

119 x 76 x 25 mm

Weight

240/245 g

Inputs/outputs

The plug of ear-phones, AV an input terminal, AV an output, mini-USB, SD/MMC (only for 566), the power supply plug, a hole for a cervical tape, IR - the port, the built in speaker and a microphone

Add-on memory

-

CD/MMC

The battery

Li-ion Removable recharged (2200mAhr, 3.7V, 1элемент)

Operating time from the battery

Video

Till 3.5 o'clock

Audio

Till 8 o'clock

Buttons

Inclusion/turn off, Loudness +///-//off, Writing, Playback/pause (choice), wind forwards (to the right), back (to the left), the previous writing (upwards) following (downwards). Playback/input, an output/stop, locking of buttons, a battery latch.
It is necessary to mark, that as a matter of fact both models represent miniature computers with the processors, memory modules, the interface chains and even with a miniature hard disk (hard disk) of a form factor of 1,8 inches.
Despite rather difficult internal arrangement, designers have taken care of that handle was not more difficult than traditional audio and videorecorders. As the given arrangements also are intended to fulfil their functions, only not traditional analogue, and digital with inherent in such products quality and possibilities of copying.
Handle of arrangements is carried out by means of the several keys allocated on a face and in the upper end face. Thus the main controls is the multiposition joystick.
But it is possible to use and a miniature remote control, that essentially raises level of comfort of using the given arrangements, especially considering presence in packages of a desksize support.
For filling of audio/video content of the arrangement can be hooked up to sources of an analogue signal and use as compact videorecorders. Besides, for loading of an internal hard disk drive the specified models MSI MEGA VIEW can be hooked up to computers by means of cable USB.
As additional, a bonus it is possible to consider presence FM of a radio receiver with possibility of writing of favourite transmissions. Besides, there is a dictophone with the built in microphone for writing of lectures, interview and oral notices, and also the built in subsystems of audio/videorecording for copying of films from traditional sources. The videorecorder, CD/DVD-player or a videocamera can be them, for example.
The specified models support complete sets of formats of multimedia, allowing to lose various videos and audiofiles in different formats, including the most popular sound formats MP3 and WMA.
Energopitanie arrangements it can be carried out or from the electric system through the desksize rectifier, or from the replaceable secondary generator recharged lithium-ionic (Li-ion, 2200 mach, 3,7 In, 1 unit) rather considerable size. Thus it is necessary to mark, that with model 566 it is delivered two secondary generators. Each of secondary generators of the specified models provides till 3,5 o'clock video or till 8 o'clock audioplayback.
Estimating possibilities of models MSI MEGA VIEW it is necessary to mark, that MSI not casually is one of leaders of the computer market. Designers have put in pawn in the models the additional possibilities linked to presence of the nonvolatile memory, characteristic basically for computer arrangements.
So, for example, it is necessary to mark, that model MSI MEGA VIEW 566 incorporates the plug for memory maps SD/MMC. This plug allows to read out from the specified maps of video and audiofiles. It is possible to use SD/MMC maps for a backup of files with MSI MEGA VIEW 566. Thus there are two ways of copying of files: at once to copy all files with SD maps in MSI MEGA VIEW 566 or to duplicate them selectively from directory SD. The given plug allows to communicate with the arrangements using given resources of memory, for example, by digital cameras easily. Besides, CD/MMC presence allows to use model MSI MEGA VIEW 566 as maps-readers for readings, writing and storage not only audio/video content, but also the computer information.
Well and it is finite, it is not necessary to forget about presence in the architecture of specified models MSI MEGA VIEW of the compact hard disk drive possessing rather high information capacity. It allows to use models MSI MEGA VIEW not only as writing audio/videpleerov, but also as transportable disk drives of the computer information.
High-speed parametres of such modes can be defined in the course of testing.
Interface
HDD
testing
Considering, that both models are close on the architecture, interface testing was carried out on example MSI MEGA VIEW 561. As the computer notebook MSI MEGABOOK S260 (the processor of Intel of Pentium M of 1,6 GHz, chip set Mobile Intel 915GM, memory DDR SDRAM 256 Mбайт, HDDTOSHIBA MK4025) used
In case of the widespread operating system (OS) of Windows XP, according to implementators MSI MEGA VIEW, at hooking up of arrangements MSI MEGA VIEW of any additional driver is not required. And it is real, the given arrangements are correctly identified. It is shown by window fragments «the Manager of arrangements» and «My computer», resulted on a Fig. 2.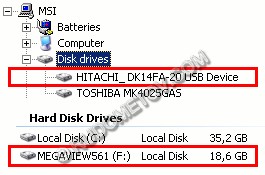 Fig. 2. A fragment of windows «the Manager of arrangements» and «My computer»
Results of testing are resulted in Table 2 and in a Fig. 3.
Table 2. Results of test WinBench 99
| | |
| --- | --- |
| Business Disk WinMark 99 | 4470 |
| Disk Access Time | 22 |
| Disk Playback/Removable Media | 2240 |
| Disk Transfer Rate:Beginning | 12500 |
| Disk Transfer Rate:End | 11900 |
| High-End Disk WinMark 99 | 9450 |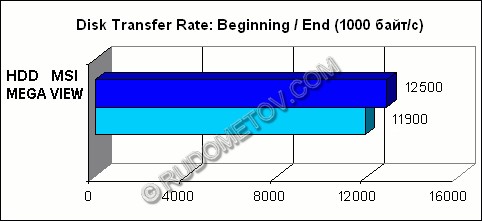 Fig. 3. Results of test DiskTransfer Rate
As follows from the resulted results, arrangements MSI MEGA VIEW can be used successfully as transportable disk drives that is useful addition in a wide set of functions of the given arrangements.
In summary it is necessary to add, that company MSI continues to develop the bar of the superportable multimedia combines of bar MSI MEGA VIEW and plans release of new models.
Models of players MSI MEGA VIEW 561 and MSI MEGA VIEW 566 have been given by the Moscow representation of company Micro-Star International
Article is published in log Magic of the PC.