Router with
Wi

-

Fi

from

Gigabyte

Evgenie Rudometov

rudometov@rudometov.com

Company Gigabyte has developed and has released router model (Router) GN-BR01G with built in modulembesprovodnoj data transfers in radio band Wi-Fi

Modern production of products and the accessories concerning production of high technologies, is carried out in the conditions of a hard competition. It demands not only concentration of necessary resources, but also acceptances of fast and adequate solutions. However even considerable resources and effective management do not guarantee expected persistence of incomes. For this reason corporations try to expand a band of products made by them. Reduction have arrived in one spheres can be quite often compensated in others. It gives the chance to reduce risks and provides necessary level of stability in the market.

As an example of such strategy it is possible to result activity of company Gigabyte, the known manufacturer of the qualitative motherboards using deserved popularity. Not being limited to main production, this company makes a wide spectrum of products, including various models of routers. A part from them AirCruiser G set routers are supplied by resources of wireless data transfer in a radio band and satisfying to specifications 802.11b/g (Wi-Fi), for example.

According to implementators of company Gigabyte, their routers AirCruiser G Router are an optimal choice for users for the first time creating a network with wireless data transfer. One of variants of a computer network is presented in a Fig. 1.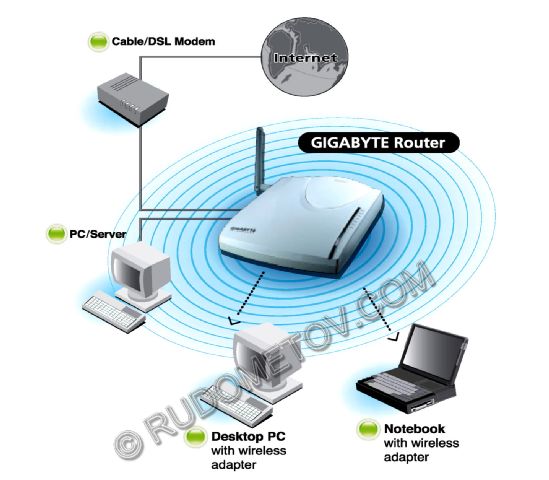 Fig. 1. An example of a computer network with router Gigabyte
As an example of routers it is possible to result model GN-BR01G. This model is oriented for small office with a small amount of computers, and also for house usage. Model GNBR01G to the full supports specifications of widespread networks 802.11b and 802.11g. This model it is equipped by four 10/100Mbps ports of LAN Ethernet which allow to detect and form automatically cable tipii interconnections. To control all links, GN-BR01G has built in server DHCP automatically to assign ip-addresses. Processing technique SmartDHCP Gigabyte guarantees, that to network arrangements double addresses will never be assigned. Model GN-BR01G supports some wireless variants of safety, including 64/128-битное WEP enciphering, identification 802.1x, WPA. Built in utility SmartSetup 3 – is not required customising CD-ROM.
Delivery package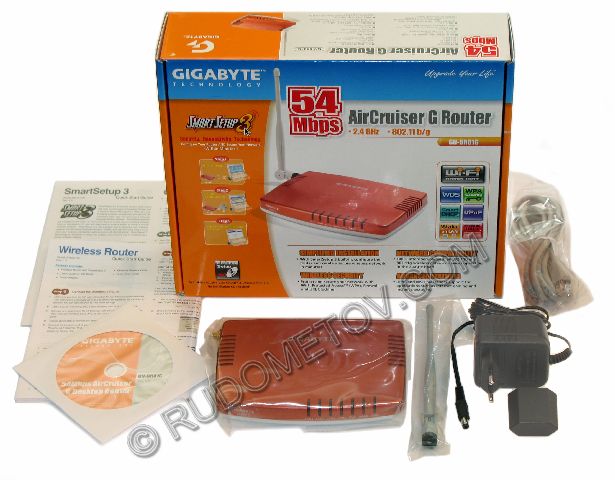 Fig. 2. A package of router GN-BR01G
The structure of a package of router GN-BR01G includes following components (a Fig. 2):
· the Router of wireless access with built in utility SmartSetup 3,
· the Adapter of power supply,
· the Cable of network Ethernet,
· the Quick reference guide on hooking up,
· Operating instructions on a compact disc.
Key parametres
Appearance of router GN-BR01G is resulted on a Fig. 3, and its main parametres — in Table 1.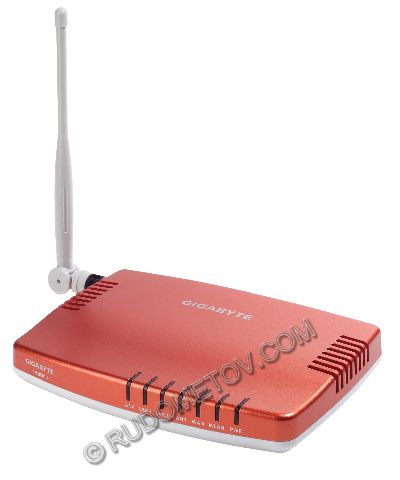 Fig. 3. Appearance of router GN-BR01G
Table 1. Key parametres of router Gigagyte GN-BR01G.
Standards IEEE

· IEEE 802.11g

· IEEE 802.11b

· IEEE 802.3

· IEEE 802.3u

Speed wireless p eredachi data

To 54 Mbps

Transfer rate WAN/LAN

10/100 Mbps

Processing technique of modulation

CCK, DBPSK, DQPSK, OFDM

Frequency band

2.412 to 2.483GHz

Power of an output signal

18dBm (max)

Safety

· 64/128-bit WEP

· WPA

· 802.1x Identification

Web the interface

Is

Support DNS Relay

Is

DHCP the Server

Is

Support of a virtual server

Is

Support DMZ

Is

Support PPPoE/Dynamic

Is

Protocols

TCP/IP, NAT, UDP, ICMP

UPnP

Is

Multilanguage support

Is

Support VPN

Is, through (IPSec/PPTP)

The physical interface

1 WAN, 4 LAN

Installation

Horizontal and wall

Power supply unit

External - 7

Connector type

RJ45

avto MDI/MDIX

Is

The aerial

External, unfastened 2 dBi

LED indicators

Power supply/status, WLAN, LAN*4, WAN*1

The sizes

110*160*25mm

Gross weight

240 +/-5g

Certification

FCC, CE, DGT, SRMC
The internal arrangement
As follows from the data resulted in Table 1, the model of router GN-BR01G possesses rather high values of technical parametres. Certainly, some of them are reached at the expense of usage of the firm software, the part from which "is stitched" in the built in read-only memory (the read-only memory – the constant storage device). However not the last role is played also by the router hardware. Its quality is defined by applied units and used circuitry. In details to get acquainted with them it is possible only visually.
So, to get access to internal arrangement GN-BR01G and its components, it is necessary to open tank. It also has been fulfilled as agreed with experts of company Gigabyte who were glad to acquaint readers of log "Computer Price" with the technological reachings, including some shemotehnicheskie secrets.
However before to pass to the description it is necessary for those who will decide to disassemble at own risk the arrangement, to remind, that similar operations not always happen are harmless for researched objects. For this reason for saving of working capacity of such or similar arrangement we urgently recommend to refrain from similar experiments.
Attention, neither the author, nor publishing house do not carry a liability of infringement of working capacity of arrangements because of nonprofessional dismantling.
Coming back to the internal arrangement of router GN-BR01G and its components, it is necessary to mark, that all electronic units are allocated all on one printed circuit card. The photo of opened router GN-BR01G is presented in a Fig. 4.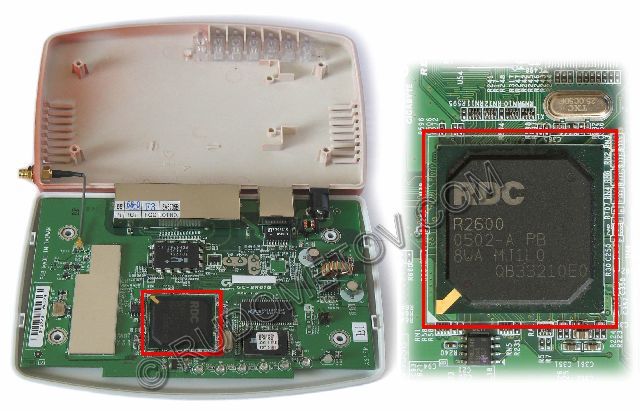 Fig. 4. The internal arrangement of router GN-BR01G
At the left in a photo of the printed circuit card resulted in a photo the high-frequency block (high frequency-block) providing an information transfer in radio band Wi-Fi is allocated. More to the right from it the high frequency-block on the card is the large chip which appearance also is presented in a Fig. 4 (on the right). This chip is rather powerful processor RDC R2600 fulfilled in tank PBGA with 456 contact electrodes. This processor works at a supply voltage 3,3 In with clock rate of 100 MHz. It includes a RISC-processor kernel, controller DMA, Timer/Часы, controller INT, 16-byte FIFO UART, controllers SDRAM, Flash/SRAM, GPIO, 10/100M MAC, IEEE 802.11b/g WLAN, PCI and Cardbus, etc.
Other large chips fulfil functions operative and the flash-memory, the commutator of ports RJ-45, the converter 10 BASE-T Ethernet. Their layout and appearance it is presented in a Fig. 4.
Router hooking up
For implementation of functionality of router GN-BR01G it is necessary to build in it the computer system and in appropriate way to customise. It is carried out the computer system and in appropriate way to customise. It is carried out by performance of the certain operations in detail described in the order bookings accompanying the given arrangement. The resulted sequence of operations allows to create high-performance system of wire and wireless data transfer. However before to carry out the recommended operations, as well as creators of this model of a router warn, it is required to be accumulated by the information on the account necessary for network connect of the Internet provider. And further it is necessary to fulfil following steps (a Fig. 5):
· to Switch off all network arrangements, DSL - or the cable modem, computers,
· to Hook up one end of cable Ethernet with RJ-45 plugs (enters into a delivery package) to the computer network card, and another – to any of four network ports of router GN-BR01G,
· In the same way to hook up other wire network arrangements,
· to Hook up output Ethernet DSL - or the cable modem to distributed network port (WAN) router GN-BR01G,
· to Include power supply DSL - or the cable modem then to connect the power supply adapter to the appropriate plug of router GN-BR01G and to hook up the adapter to an electrical network.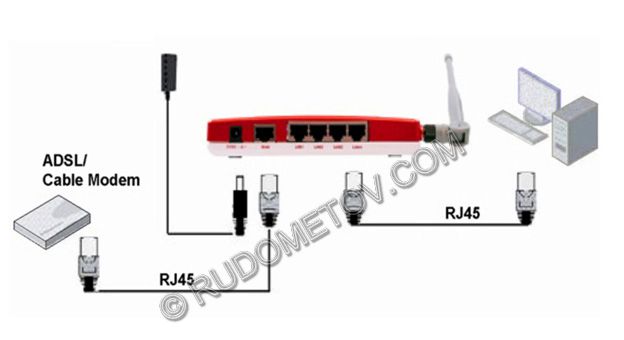 Fig. 5. Hooking up of router GN-BR01G
As a result of the described operations self-test of the arrangement which will occupy approximately 5 seconds will start. After successful testing it is necessary to include power supply mentioned above the computer connected to network port of router GN-BR01G, and to start a stage of program customisation taking into account a connection type to the Internet.
It is necessary to mark, that three connection types to the Internet are possible. Among them, for example, PPPoE. It as implementators consider and as it is marked in the order bookings, the most widespread connection type of house computers for users DSL. For hooking up PPPoE it is necessary to specify the user name and the password.
Except the specified type, hooking up with dynamic ip-address (DHCP) is provided. In this case it is not required to any information on the user.
One more type is hooking up with static ip-address. For this variant it is necessary to fill fields with the information on ip-address, a masking layer of a subnet, the gateway server and a DNS-server.
Unfortunately, it is far not always to users the necessary information is accessible. However in case of usage of the specified model of a router the problem dares simply enough thanks to built in utility SmartSetup 3.
Product SmartSetup 3 is ON for hooking up tincture to a wireless network into which enter the wizard of protected hooking up Encryption Connection Wizard and utility Wireless Network Management. SmartSetup 3 extreme simplifies hooking up of arrangements of a wireless communication of company Gigabyte and customisation of parametres of safety of hooking up. Program SmartSetup 3 is started automatically right after installations of router GN-BR01G so users will not need to worry about what software is necessary for installing from a customising compact disc. According to implementators of router GN-BR01G, SmartSetup 3 is the fastest way of installation of protection of a wireless network with the help ON Wireless Protected Access (WPA), and also customisations of hooking up with usage of built in utility G-EzLink. Processing technique SmartSetup of 3 companies Gigabyte represents a simple and reliable way of customisation of the protected hooking up to a wireless network.
In the course of the operation utility SmartSetup 3 automatically defines a connection type and opens a hooking up window in a Web-browser. In this window it is carried out all necessary customisations.
It is necessary to mark, that after input in dialog mode of all necessary parametres the utility saves customisations and after 30 seconds automatically reboots router GN-BR01G.
Router GN-BR01G is given by the Moscow office of company Gigabyte
Article is published in log the Computer the Price (Computer Price).