The free Agent of high size
Evgenie Rudometov
Rudometov@rudometov.com
Within the limits of the new bar of disk drives FreeAgent company Seagate has presented the next transportable model created on the basis of a 2,5-inch hard disk (HDD) with information capacity of 160 Gbytes
Together with growth of functionality of computers sizes of the processed information grow also. Programs and given – both system, and user's grow. Any more are not a rarity gigabajtnye files, and video of high clearness promises appearance even great volumes. For this reason compact disk drives are claimed vysokoemkie. Transportable arrangements of storage and information transportation are thus especially popular.
Among arrangements of the given group the disk drives created on the basis of hard disks, yet have no competitive alternatives. It is linked by that at compact design they provide is unprecedented low cost of an information storage. For this reason such disk drives are claimed and very popular.
As the result, many companies release various models of transportable disk drives. In the conditions of a hard competition they permanently perfect used processing techniques and units. Thus to radical upgrade are exposed not only HDD, making a basis of transportable disk drives, but also design of disk drives, and also the software accompanying them (ON). As a result there are new bars of disk drives with the improved consumer properties.
As an example of such evolution it is possible to result the transportable USB-disk drives created and made by company Seagate. Recently this company of the beginning of delivery of arrangements from the new bar which have received name FreeAgent Go, come in the stead Portable External Hard Drive.
As well as their predecessors, models of the new bar are created on the basis of 2,5 "HDD. However differ from the prototypes dimensions, in weight and design, and also accompanying ON.
The high representative of bar SeagateFreeAgent Go now is the model which information capacity makes 160 Gbytes. Names such model has been given on acquaintance and testing.
Package

Seagate

FreeAgent

Go
The package of disk drive SeagateFreeAgent Go in size of 160 Gbytes is resulted in a Fig. 1.
This package consists of following components:
· the Packing box with the nested shock-proof container,
· the Transportable USB-disk drive with preinstalled ON,
· the Cable of hooking up of the disk drive to USB-ports of the computer,
· the Manual on fast installation.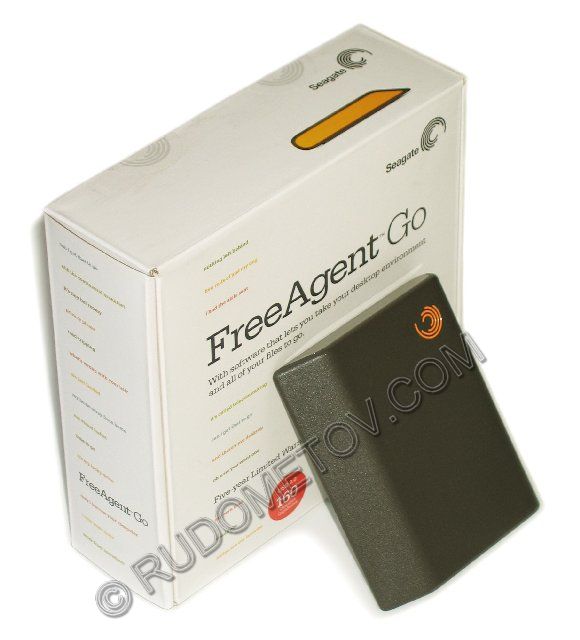 Fig. 1. Package Seagate FreeAgent Go
Key parametres
Seagate FreeAgent Go
Now at the bar of transportable disk drives FreeAgent Go is present three models. Their name and basic performances are presented in Table 1.
Table 1. The bar of external disk drives FreeAgent Pro
Model number

Size,
Gbyte

Interfaces

The limited warranty,
Years

ST900803FGA1E1-RK

80

USB 2.0

5

ST901203FGA1E1-RK

120

5

ST901603FGA1E1-RK

160

5
Arrangements SeagateFreeAgent Go are oriented to the computer market of compact transportable disk drives. They can be used both with notebooks, and with desktop computers, servers and workstations.
Short parametres of high model SeagateFreeAgent Go are resulted in Table 2.
Table 2. Short parametres of high model FreeAgent Pro
| | |
| --- | --- |
| Model | ST901603FGA1E1-RK |
| Size, a Gbyte | 160 |
| The sizes, mm | 17,7 h 121,9 h 99 |
| Weight, g | 182 |
| The interface | USB 2.0, compatibility USB 1.1 |
| Power supplies | Through USB |
| Operating systems | Windows XP Home, Professional Edition or Windows 2000 Pro |
The disk drive is hooked up to the computer by means of an USB-cable. This cable from one end has USB miniplug plug, another — is ended by two standard plugs USB. Thus one of them is for an information transfer with simultaneous realisation through it of power supplies of the controller and HDD the arrangements, the second — for feed of the additional energy necessary in case of insufficient power supply through the main plug. Generally speaking, it is expedient to apply both standard USB plugs to disk drive power supply simultaneously. It guarantees sufficiency of power supplies even in case of usage of models of the computers which are not supporting to the full specifications USB 2.0.
The transportable disk drive is placed in plastic tank of coffee colour with skosom one side and zakrugleniem the opposite. As a result the tank reminds the small book.
In one of tank end faces there is USB miniplug. The opposite end face is made of the yellow plastic highlighted by a light-emitting diode, included in hooking up time. Brightness of a light-emitting diode increases in execution time of process of data transfer. However, brightness change is carried out with the period two-three seconds.
The disk drive is equipped 2,5 "HDD Seagate Momentus 5400.3 with a perpendicular magnetic recording. Model used HDD — ST9160821AS, informational size — 160 Gbytes, speed of rotation of slices — 5400 ob./mines, interface HDD — SATA.
The disk drive is delivered with preinstalled firm ON. It provides possibility of synchronisation of data, and also supports enciphering of contents HDD on 256-bit AES.
Realised in SeagateFreeAgent Go hardware-software resources of the interface are compatible to all widespread operating systems. These resources do not demand additional drivers and provide a data transfer high speed: as is known, speed limit of the interface — to 60 Mb per second.
Real high-speed parametres of the disk drive of model ST901603FGA1E1-RK of bar SeagateFreeAgent Go have been defined in the course of the testing which results are resulted more low.
Testing
As a computer platform for testing of transportable disk drive ST901603FGA1E1-RK of bar SeagateFreeAgent Go compact notebook Fujitsu Siemens LIFEBOOK P7010 used.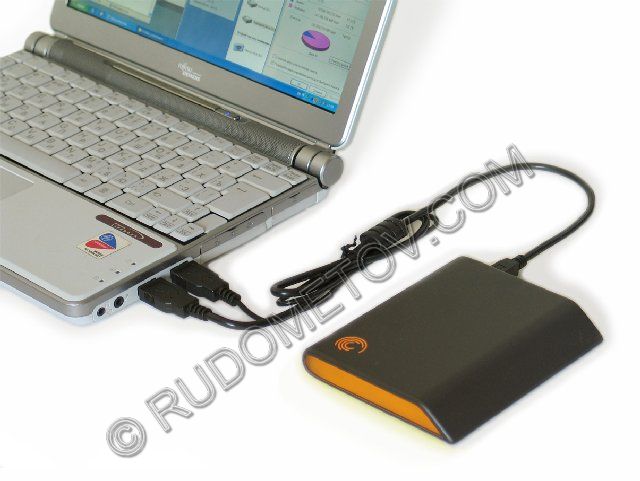 Fig. 1. The transportable disk drive which has been hooked up to a notebook
Into notebook structure enter:
· Motherboard FUJITSU FJNB189 (the processor bus of 400 MHz, Intel chip set 855GME with the built in graphics subsystem and ICH4-M),
· Intel of Pentium M ULV 733 (1.10 GHz, 2048 Kbytes of cache memory L2, clock rate of the processor bus of 100 MHz that provides data transfer with frequency of 400 MHz),
· the Disk drive on hard 2,5-inch magnetic disks HDD FUJITSU MHT2060AT in size of 60 Gbytes,
· Units of dynamic storage DDR333 SDRAM of 512 Mb,
· the Videoadapter presented by resources of the built in drawing of a chip set of Intel 855GME,
· Optical drive MATSHITA UJDA755 DVD/CDRW,
· the Operating system of Microsoft Windows XP HomeEdition.
The disk drive after its hooking up to the transportable computer was identified at once by WindowsXP operating system, and in a window «My computer» has appeared a new logical disk. That preinstalled ON could not affect results of testing HDD has been cleared and formatted with saving of factory parametres.
By means of a choice of appropriate options on the display screen values of information capacity have been output. In a Fig. 3 menu fragments «My computer» and "Properties" are presented.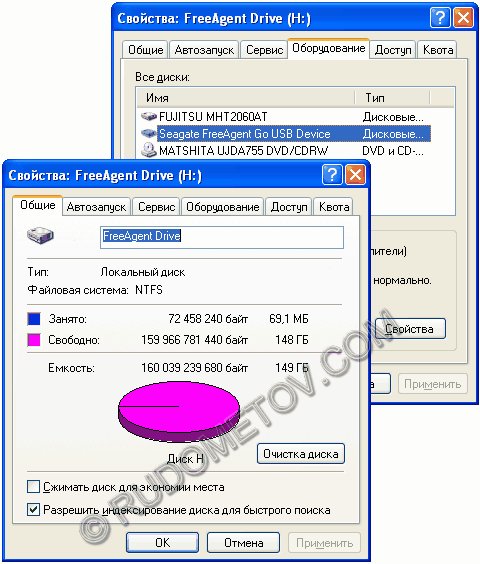 Fig. 3. A fragment of the menu of "Property"
As software of an estimation of high-speed parametres of transportable disk drive ST901603FGA1E1-RK of bar SeagateFreeAgent Go specialised tests of package SiSoftwareSandra have been used. The received results are presented in Table 3 and in a Fig. 4.
Table 3. Results of testing
| | |
| --- | --- |
| Tests | Results |
| Buferizovannoe reading, Mb per second | 26 |
| Consecutive reading, Mb per second | 27 |
| Casual reading, Mb per second | 19 |
| Buferizovannaja writing, Mb per second | 24 |
| Consecutive writing, Mb per second | 24 |
| Casual writing, Mb per second | 24 |
| Average access time, msec | 17 |
| Disk index, Mb per second | 24 |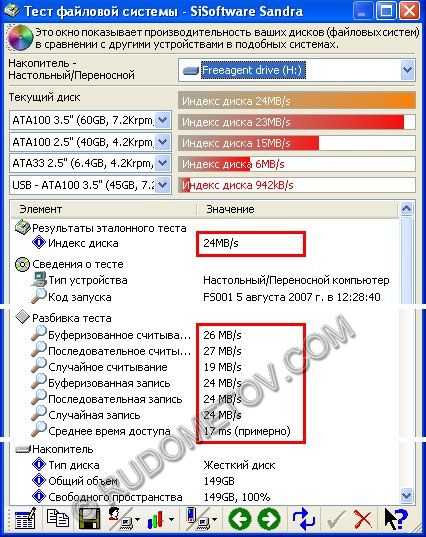 Fig. 4. High-speed parametres of transportable disk drive ST901603FGA1E1-RK of bar SeagateFreeAgent Go
As follows from the results received in the course of testing, transportable disk drive ST901603FGA1E1-RK of bar SeagateFreeAgent Go possesses not only high size, but also good speed regulation characteristics. It allows to recommend the given arrangement as a carrying over and information storage effective remedy.
Transportable disk drive ST901603FGA1E1-RK of bar Seagate FreeAgent Go has been given by company EASTSIDEConsulting, notebook Fujitsu Siemens LIFEBOOKP7010 — the Moscow representation of company Fujitsu SiemensComputers