New generation ZIV
Evgenie Rudometov, Victor Rudometov.
authors@rudometov.com
Fixing the success linked to release on the computer market of transportable disk drives ZIV, company InPrice, announced development of the new bar of the arrangements oriented to usage USB 2.0 that allows to fall forward considerably data.
Popularity of transportable resources, despite a little tightened general stagnation of the computer market, permanently grows. This popularity is mirrored by adequate image in sales of appropriate systems, accessories and accessories. And Russia is not an exception, showing growth in tens percent, overtaking on sales and Europe, and America what in mass media independent experts already repeatedly declared.
The given circumstance has not passed by attention of domestic computer corporations which pay to transportable solutions the most steadfast attention. It is necessary to mark, that it concerns not only promptly typing popularity naladonnikov and notebooks, but also the transportable resources providing writing, storage and information reading, and also carrying over of programs and data between computers of different architectures.
Company InPrice which is one of few successfully developing Russian companies having in-house fabrication concerns number of the specified corporations also. Its dealer network includes more than 150 active partners in Russia. Besides, it is the authorised partner of such corporations, as 3Com, HP/Compaq, APC. The industrial division of company InPrice carries name IDS.
Heads of company InPrice fairly are proud of the reachings and at recently led press conference have told about reachings and have declared development and release of the new perspective bar of transportable disk drives.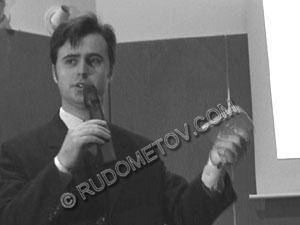 Yaroslav Kuzmitsky, the director for company InPrice development appears
New arrangements company InPrice represent development of the popular bar of transportable disk drives ZIV.
It is necessary to remind, that disk drives ZIV (ZIV Drive) represent the transportable arrangements used for storage of programs and data. Transportable disk drive ZIV is hooked up to desktop (Desktop) or portable (Notebook) to the computer through one of ports USB built in this computer. Thus through port it is carried out not only an information transfer, but power supplies are carried out also. It allows the used disk drive to do without the additional power supply. The arrangement possesses small weight (less than 130) and dimensions (is located in a shirt pocket). It is not afraid of blows and vibrations. The informational size of high models makes 30 Gbytes.
The new bar of transportable disk drives have received name ZIV2. As well as their predecessors, a construction of new transportable disk drives is based on usage of 2,5-inch hard disks. Thanks to such solution the high information capacity, compactness and rather low price of storage editsitsy information is saved. Usage, as well as in case of models of the previous bar, the special hard disks steady to short-term on time and considerable on the value to dynamic loads, allows to provide high dependability of transportable disk drives. The low starting current and high electroprofitability allow and to refuse in this case the additional power supply and to manage the possibilities provided with ports USB.
Difference of the new bar of transportable disk drives from the previous consists basically in the interface. The matter is that models ZIV2 are oriented, first of all, on the ports satisfying specifications USB2.0, and, as is known, a transfer rate through such ports in forty times (to 480 Mbit/with - 60 Mb per second) are exceeded by that level which was provided with ports of the previous standard - USB 1.1 (12 Mbit/c).
Implementation of the new interface has allowed to translate transportable arrangements to new level of functionality. Now the transportable disk drives which have been hooked up to port USB 2.0, it is possible to apply not only to the traditional purposes of writing, reading, storage and carrying over of programs and data. New models can be used more widely and as the additional external disk drive for operation with multimedia files, including that realise high-quality video. It can be, for example, the copied information from videocameras of standard MiniDV and disks DVD gaining the increasing distribution demanding high bitrejtov, unavailable to transmission through USB 1.1.
But, unfortunately, extremely perspective ports USB 2.0 are mandatory attributes, as a rule, rather new motherboards. Ports of this type usually are not presented in their predecessors supplied USB of previous developments 1.1 and used as a part of computers. Nevertheless, transportable disk drives ZIV2 can be used and with such already out-of-date computers. However, in this case completely to realise high-speed potential of models of the new bar of disk drives it will not be possible. Realised high-speed parametres practically will correspond to arrangements of the previous generation oriented on USB 1.1. However it is necessary to mark, that representatives of company InPrice have declared more high speeds of operation of arrangements ZIV2 on matching with the predecessors even in these cases that testifies to advantages of models of the new bar. Though there are no reasons to doubt it, the confirmation to such estimation will be received in the course of separate independent testing, as will be made in the near future.
The high parametres of transportable disk drives ZIV2 declared and shown by representatives of company InPrice at all do not mean the termination of life cycle of the previous generation of arrangements. As it has been specially underlined at press conference, release of products of a popular series it will be continued. Only instead of name ZIV the given bar of arrangements has received a new name — ZIV1. By the way, about popularity of this arrangement says that fact, that by October of current year company InPrice realised more than 15 thousand disk drives. Thus only 600 from them have returned on a guarantee. So it is quite clear to continue tendency of the company release and sale of the given disk drives, despite release of more perfect products which are ZIV2.
Considering some technical features of disk drives ZIV2 and comparing them with ZIV1, it is necessary to stop and on constructive differences. First of all it concerns dimensions: because of usage of more difficult controller ZIV2 (adapter ATAPI on USB2) possesses a little bolshej length. As a result the arrangement became a little bit longer: 125 x 72 x 11 mm. Plugs have besides, varied. It is possible to see it on the resulted photo of control panel ZIV2 (from left to right): the switch, the indicator of a state of the arrangement, USB 2.0 plug, the backup plug of optional additional power supply. Apparently on a photo, unlike ZIV1 (ZIV Drive) and in construction ZIV2 there was an additional plug of power supply. It in some cases facilitates usage of this disk drive together with some types of transportable computers. Besides, as employees, probably have declared, in topovyh models will use vysokoemkie hard disks Toshiba and Fujitsu which can demand additional power supplies.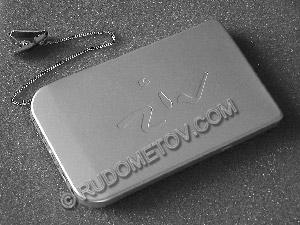 Transportable disk drive ZIV2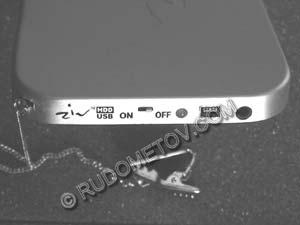 Disk drive ZIV2 control panel
Certainly, growth of popularity of transportable disk drives not in a small degree was promoted by ease of installation of drivers with supported operating systems of the set of Windows. In new products implementators have gone further away. Now in some cases driver installation any more is not required, for example, at usage of popular system of Windows XP.
One more feature of the new disk drive is possibility of simultaneous usage of the several arrangements which have been hooked up to ports USB of the computer. Users of arrangements of the previous generation have been deprived this possibility. And it is linked not by any faults or defects designers. The matter is that, as experts InPrice have declared, in engineering of the controller which is a part ZIV, specification USB has varied. And though about this feature the majority of users do not know (seldom who from them have a little ZIV, operation with which is necessary for carrying out simultaneously), nevertheless, the specified perfection of the architecture realised in ZIV2, deserves a mention.
It is necessary to add only, that disk drives ZIV2 are provided with a guarantee of 18 months that testifies to confidence of the manufacturer of excellence of production. And, by the way, it occurs against general abbreviation of time of the guarantee installed by manufacturers of hard disks.
Coming back to press conference substances, it is necessary to pay attention to one more interesting fact: in coordination with the foreign partner USBnet corporation production of transportable disk drives is transferred to Russia and will be carried out directly by company InPrice. Thus, both variants of transportable disk drives — ZIV2 and ZIV1 will be made now in Russia.
And in summary, it is necessary to mark, that transportable disk drive ZIV2 is already accessible. And in the near future it will be subject to the most careful and all-round testing. Results of this testing will be presented in one of following articles.
It is published in log "Computer Price"